Second Annual

International Gathering

of Friends and Champions

June 15-17, 2012
Iowa State Fairgrounds, Des Moines, IA
3000 East University Avenue, Des Moines, IA 50317
We're dealing a WINNING event and betting
on a Full House at the

2nd Annual International
Gathering of Friends and Champions!
"What Happens in Vegas stays in Vegas," but what happens at The 2012 International Gathering of Friends and Champions is Family Fun to share with Everyone from Everywhere!! Bring the kids, bring the llamas and join us for a weekend of fun, family and fellowship in the Llama Community.
All exhibitors must be 2012 ILR Show division Members and those members may show ANY animal they own - there are no required point totals or Grands / Reserved Grands earned. Our intention is to make this event accessible to everyone.
Dedication / Hotels / Camping / Sponsorship info below:
The Gathering 2012 DEDICATION information

It is traditional in many livestock associations and national agriculture events to dedicate the national show to someone who has made a major impact on the industry. The ILR Board would like to adopt this tradition for our ILR Show Division International Gathering of Friends and Champions. The recipient of this dedication will be someone who has had an impact on the industry; someone who has helped promote llamas in a positive manner, someone who supports the industry as a whole, not just their area of interest, and someone who has committed themselves to improving the industry for llamas and for llama owners.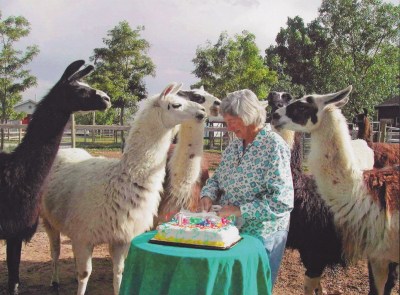 Bobra Goldsmith, 1930-2010
The 2012 International Gathering of Friends and Champions is dedicated to the memory of Bobra Goldsmith. Bobra started Rocky Mountain Llamas in Longmont, CO in 1980. Bobra appreciated all types of llamas, but had a passion for light wool llamas and packing with llamas. Whether hiking a mountain trail or showing in the halter and performance rings, Bobra's love of llamas was apparent. She designed halters and pack equipment for the trails, and authored books on training llamas. She knew the value in educating owners on proper care of their llamas and worked equally hard to re-home animals in need. Bobra was known for her smile, her passion for llamas and llama owners, and for her love of working llamas. We celebrate Bobra's commitment to the llama industry, her positive outlook on life and her passion for llamas with this dedication in her memory.

The Gathering 2012 HOST HOTEL information

NOTE: There are now TWO host hotels.

We are anticipating a "Full House" so make your reservations early!

Host Hotels with special rates for the ILR-SD membership:

Holiday Inn Downtown at Mercy Campus
1050 6th Ave
Des Moines, IA 50314
515-283-0151 or 877 834 3613

Rate: $79.95 . . . Ask for "LLAMA" group rates.

Sleep Inn and Suites
5850 Morning Star Court
Pleasant Hills, IA 50327
515-299-9922

Rate: $85.00 . . . Ask for "LLAMA" group rates.
The Gathering 2012 CAMPING information

Camping is available at the Fairgrounds. It is a few blocks to walk to the stalling/show arena. Most folks will drive from the campground to the show if they have a vehicle that can be separated from their camper.

Camping is offered through the Fairgrounds, not The Gathering. You do not need to reserve a space ahead of time but if you would like to, call Norris Berg to reserve a campsite: (715) 273-5230. There normally is someone on duty; however, if you arrive and no one is present, pick out your spot and they will catch up with you.

Bathrooms including showers are available at the campground.

RATES:

Full hook up – water, electric & sewer - $23/night
Water & electric - $20/night
No hook ups - $18/night


The Gathering 2012 SPONSORSHIP information

We will be asking for sponsors for this event. Sponsors will receive a year-long listing on the ILR website including a link to their own website, special acknowledgement at The Gathering of Friends and Champions, special stall recognition and additional "spotlights" by the Promotion Committee. Click here for the sponsorship form.
CLICK HERE for complete Gathering information.
Norris Berg, Chairperson -
(715) 273-5230 or e-mail kmberg@pressenter.com

ILR ~ ilr@lamaregistry.com ~ PO Box 8, Kalispell, MT 59903 ~ (406) 755-3438