Register a Lama
ILR Information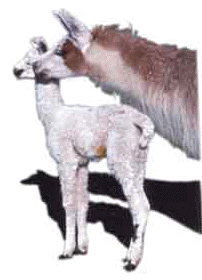 Registration and Listing Fees
Registration Form Directions
Naming Rules
Photograph Requirements
ILR Office Address and Telephone Numbers
For a complete list of fees contact the ILR and request a copy of the 'Policies and Bylaws'.
The Online Registration Form is a fully capable web based registration system under certain circumstances. If you can sign for all the verifying llama information on the registration form:

Owner of dam at conception
Owner of sire at conception
Owner of cria at the time of birth
Owner of cria at the time of registration

You can use the online registration system to fill out your paperwork and upload photographs of your llama. To complete the registration process, you may prepay with your Master Card or Visa by adding money to your ILR account through the website. If we do not want to pay via the website, you can mail a check or money order, or you can call the ILR office and provide payment information to an operator - 406-755-3438.)
If you cannot sign for all 4 verifications above, you can still use the online form to fill out your llama information. The form can then be printed on your own printer. The form you print will, in most cases, indicate the signatures that you need to obtain. You will then need to mail in the completed form (with all 4 signatures), photographs and appropriate fees. You can also download and print the Paper Registration Form PDF
In several places you'll see drop down menus like the following:
Simply click on the arrow or in the window and the menu appears. On long menus note the slider bar on the right that allows you to scroll up or down to your desired choice. Just click on your choice and it will appear in the window. Then click anywhere else on the form and the dark coloration will disappear. You can change your choices as many times as you like.
Drop down menus contain single key stroke shortcuts. To see the single key stroke shortcuts on any pull down menu, take note of the first letter of each selection.
If you cannot submit electronically, print at least 2 copies, one to send to the ILR office and another for your records. If you are submitting electronically, print a single copy for your records.
We hope this form proves useful. Please let us know if you experience problems. Remember to include your payment and the required photos when you mail your registration form.
Any name beginning with a letter or digit and having 35 or fewer characters
(including punctuation and spaces) is acceptable with the following conditions:
names must differ by at least one letter from all other names in the Registry
names may not infringe on another owner's breeder identifier
names may not infringe on another owner's protected name
names may not include or refer to breeder identifiers, ranch names or personal names other than those of the breeder

Try the Name Search to be sure the name you want is not already taken.

Registrations without proper photos are not acceptable.
Regular Color Print Photograph Requirements
2 are required (left side, right side), 4 recommended (left, right, front, back)
Must be color
3.5"x 5"to 4"x 6" in size
Full lama, close up
NO other animals in photograph
NO Polaroid, instant, or photocopied photographs
Lama's name, owner name and owner code must be printed on back of each photograph

Digital Requirements
JPEG format only (.jpg)
High quality file setting
2.5" x 3.5" (375 pixels x 525 pixels) image size at 150 pixels/inch (anything less will not be accepted). File sizes should be around 100KB and no larger than 5MB. Files larger than 5MB are prone to fail uploading.
Digital photographs MUST be uploaded from the ILR web site. Photographs attached to email will not be accepted unless there is prior approval.
If you have problems uploading photos during the online registration process, you can login and go to the Main Navigation Menu > Main Member Page > Animal Photos: Update. Here you can upload recent online registration photos or update photos of your herd.

Post Office Box (general mail)
ILR
Voice: 406-755-3438
PO Box 8
Fax: 406-755-3439
Kalispell, MT 59903
Email: ilr@lamaregistry.com
Physical Location (courier - FedEx, UPS, USPS Express, etc.)
ILR
11 1/2 S. Meridian Rd.
Kalispell, MT 59901