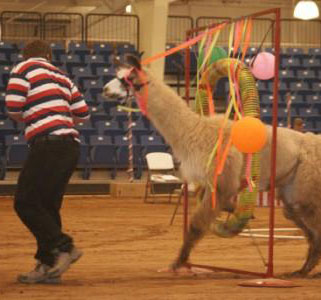 YOUTH AWARDS
Youth Champion and Reserve Youth Champion

It is suggested that Youth Champion and Reserve Youth Champion be awarded for each show
Youth's score for each class should be tabulated using the table below.
Youth Champion Award will be determined by the best combined score from three (3) classes.
Freestyle Obstacle and Companion PR will be required classes.
The third class may be either Showmanship or Trail Pack.
If the youth participates in all four classes, the third class will be the one with the higher score between Showmanship or Trail/ Pack.
In case of a tie, the Freestyle Obstacle class points will be the tiebreaker.
The second tiebreaker, if needed, will be the Companion PR class.


Youth Sportsmanship

Show Management may choose to offer a Youth Sportsmanship award
It is suggested that youth be allowed to vote and choose winner of this award.
Criteria and ballot to be developed.


Youth Year-End Awards

A minimum of number of two (2) entries per class are needed to accumulate points for year-end ILR Youth awards.
Year-end Youth Awards will be given to the Overall High Point achiever in each of the three age divisions (Jr. Youth, Intermediate/Novice, Senior Advanced) for each of the four approved point classes (Showmanship, Freestyle/Obstacle, Public Relations/Companion, Pack/Trail).